celebrating the Cotillion diversity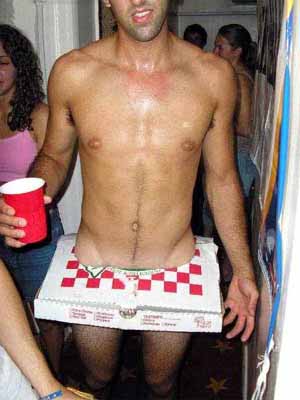 OK, I was doing a Google search last night on American Heritage Girls, which I read about at a certain pro-life site that I regularly read. Let's just say how amazingly FAR off the original topic you can get on the internet sometimes. Note to anyone who got here from a similar search or looking for pro-life content: this post is NOT what you're looking for, OK? (Hey, I warned you–just be glad I'm keeping my language clean.)
In response to educators' requests, "Prussian blue" is renamed "midnight blue." Teachers felt that children were no longer familiar enough with Prussian history to recognize that this crayon color referred to the famous deep-blue uniforms of Prussian soldiers.
Little Miss Attila is Prussian BLUE because Movable Type is giving her grief. . Any help, tips, advice will be appreciated, I'm sure. I so feel her pain. (OMFG...I said that while biting my lower lip and pointing with my first finger knuckle...aieeeeeeeeeee!)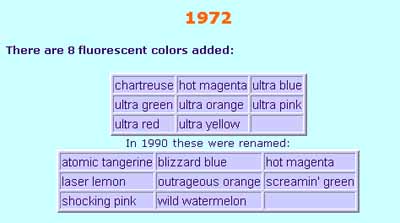 MaxedOutMama notes the Ultra Yellow hue of the French Democrats while doing the Can/Can't:

The Cans Vs The Can'ts
Agincourt. It's Agincourt all over again. Is it truly surprising that the Democrats are cast in the part of the French?

"Everyone is affected mostly by their enemies"

(but they changed it anyway...now the crayon feeeeeeeeels better)

Mamamontezz revisits the Blue-Gray day of September 11, 2001.
1962
Partly in response to the civil rights movement, Crayola decides to change the name of the "flesh" crayon to "peach." Renaming this crayon was a way of recognizing that skin comes in a variety of shades.

What Is The Answer To Black Proverty?
I've been reading several articles about the impoverished in New Orleans. It disturbs me greatly that the underlying reasons of poverty among African Americans has not changed since I grew up in an integrated area in Jackson Mississippi. Lifestyle choices of low income black women are a large contributing factor. In all the articles I read (not to mention personal experience) you see the same tale of a young girl getting pregnant at 16 or 17 and dropping out of school, not to marry, but to continue on as a young unwed mother with little hope of a better job or a better life. Despite the untold number of programs that have been tried over the past 30 yrs, little has changed. I see programs that allow young girls to continue their education, giving free transportation, free education, and free daycare, and yet these girls still drop out. I see programs with after school activities and care for young African Americans, yet they still join gangs. I see programs that give food stamps and free health care, yet so many still live unhealthy lifestyles that lead to obesity and other health problems. I see programs that give better housing options, but still no change in lifestyle. Despite the billions and billions of dollars we have thrown at this problem through government social programs, we still have the highest poverty rate in the developed world. Clearly what we are doing isn't working.

I'd say Portia takes on Gweneth,
the
Roberts and Farrakhan in
one fell post
! How diverse is that!
[Cross-posted
HERE
.]

Even the Cotillion carnival has diversity; see the other posts at Fistful of Fortnights, Soldier's Angel Holly Aho, and Crystal Clear.
Posted by SondraK at September 20, 2005 12:31 PM