The "2996" 9/11 Project needs YOUR help
I know many of you already know about the 2996 project, but it's time to do a reminder--and a bleg.

2996 is a project organized by D.C. Roe, to have 2996 bloggers (!) all posting a tribute to a 9/11 victim (names are assigned) on September 11, 2006--the five-year anniversary. Right now there are 1187 1212 blogs signed up (only 40% of the goal), and there's just over a month to go. You know what that means:

If you read the progress section you probably know where this is going. I've been spending a lot of time sending information about 2,996 to some of the big blogs, online newspapers. I'm hoping that some big publicity will speed up the sign up rate. So far I've got some interest, but nothing concrete.

Bottom line is we need more bloggers. That's where you all come in.

1. What if each of us got 2 new bloggers to sign up? I'll tell you what…we'd have more than enough to put this thing over the top. So tell everyone about it. Remember the old commercial? You tell 2 friends…then they'll tell 2 friends…

2. We do need some publicity. And the bigger the better. So send requests to the big blogs you read. Ask them to join. And them to do a story. Ask them to help. It might be easy to overlook one email from the guy running the whole thing, but it'd be much more difficult to overlook fifty or a hundred emails.
I had signed up some time ago, but I got an email from
Angie
asking for help--and I'm glad she reminded me, because I was thinking just recently that it was time for a reminder on this site.
So how about it? Surely one post on one day to honor a 9/11 victim's life isn't too much to ask, is it? Have YOU signed up?
If you have signed up already, please post a reminder on YOUR blog. I don't care if you want to copy my whole post or write your own and not link to this; your politics or lack of political interest isn't a part of this at all--I just want you to help.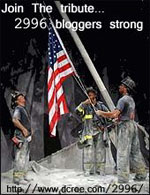 Posted by Beth at August 3, 2006 05:01 PM